Donna Blevins PhD
"The words you choose set yourself up for either success or failure"
Bio
Zig Ziglar said, "Donna Blevins is someone we can all look up to, both professionally & physically!"
Known as "The Big Girl of Poker" at 6-foot 5-inches tall, Donna is an International professional player and MindShift coach with more than 40 years of experience helping people in all areas of life shift their mindset and perform at their highest level under pressure.
After going back to school at the age of 58 and earning her doctorate, Dr. Donna says, "Just call me Coach."
When Life Deals Crappy Cards, You Do Have a Choice
At a time in her life when she was questioning her value, Donna asked for proof that her MindShift Exercises™ work. Moments later, her speech was muted. She was silenced by a massive brain stroke.
Her healthcare team told her it would take 8-9 months before she could clearly speak.
She thought to myself, "Bullshit! I won't buy into that… I will NOT play those cards!"
The result? She got what she asked for—the opportunity to prove MindShifting™ works in real time.
Recovering her speech in three days was the catalyst for her to share these methods with you.
If you could have the full power of your mind—your biological supercomputer—what could YOU do in three days? Three months? Three years?
For a 3-minute look at Donna on stage, sit back and enjoy…
Donna Blevins is an International Best Selling Author
Click to Amazon and grab book is in paperback and Kindle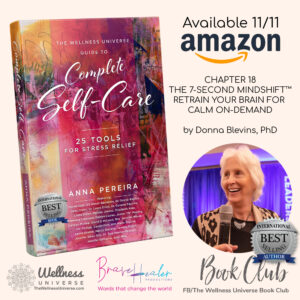 Prior to the launch of the International Best Selling book, Donna had a powerful conversation with two other authors of The Wellness Universe Guide to Complete Self-Care, 25 Tools for Stress Relief… "Our intention is to help you live your best self."
Awards and Affiliations
Recognition Award from the U.S. Department of Veterans Affairs
Who's Who in Successful Women in Florida
Causes and Organizations
Women's Prosperity Network Lifetime Member
CEO Space Lifetime Member
NAMI Member - National Alliance of Mental Illness
Mended Hearts, Chapter Founding Member
Certifications and Credentials
International Best Selling Author
PhD in Metaphysical Coaching
Masters in Metaphysics
Masters in Performance Spiritual Psychology
Journalist, Blogger, Podcaster
C.C.I.M. ret - Certified Commercial Professional Member - the PhD in commercial real estate
Bachelor of Fine Arts in Advertising and Graphic Design