Caroline Perez
Energy Clearing Practitioner, Certified Transformational Coach & Intuitive Guide
Bio
Ready for a Fresh Start?
Email me at cperez@alignedbycaroline.com
Or you can join Magical Help Desk!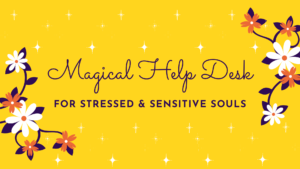 It's a sacred space for stressed and sensitive souls that need intuitive guidance, unconventional support from beyond and more peace and calm in their lives.
➡️ www.facebook.com/groups/magicalhelpdesk
*All new members receive a free General Energy Clearing.

How I can help you…
I'm a Virtual Personal & Home Energy Clearing Practitioner, Certified Mastery Transformational Guide, and Intuitive Guide…
I can help you welcome more peace and joy in your life and finally be happy now! 🥰

What my clients say…
"Caroline is AMAZING! I received a Personal Clearing when something odd happened with a potential client. Caroline cleared it for me immediately, and the insight she provided on the layer that she cleared for me was also an incredible help! It not only made sense to me, but also has now helped me to be able to take steps so no other odd things happen again! As an intuitive coach and energy healer, these sorts of details are a huge help: so nothing gets in the way of me being at 100% for MY Soul clients and work! Thank you SO much, again, Caroline for all of this!!" – Christa Norris
"Professional punctual and caring. Treat yourself to a minimum of 4 sessions with Caroline and then watch the outcomes manifest in your life. I did it and will do again." – Tracey Stone
"Thank you Caroline!! I feel a difference…my kids all slept so peacefully last night :)" – Jennifer F.
"I've experienced lots of shifts since our Home Clearing. Regrets I had about purchasing the house, as well as, negative energy associated with prior owners is now gone. I also found myself able to release resistance to investing in home improvements and even feel financially better off for having done so." – Wes Richards
"I had a Personal Clearing and it was like an afternoon nap thatperfectly resets your day, weeks and longer!"– April H.
"I've been feeling way better… I was in a very bad state but I've started to feel more like myself after our Home Clearing. The home feels more active and brighter." – Yany P.
"I received $2000 in work which I am CERTAIN that the clearing had something to do with it! And my husband finally sold the house he's been trying to sell." – Silvia Watson

About Personal or Home Energy Clearings…
I invite you to experience Personal Energy Clearings where you'll clear deep layers of stress that you may have…
⭐️ Inherited from your ancestors
⭐️ Absorbed from people or places around you
⭐️ Embedded by your own life experiences
It's like a massage for your spirit where you release stressed "knots" and bring back balance so you can finally let go and welcome the happiness you deserve. 👏
And did you know… when your home is out of balance, it can show up in your life as financial troubles, work issues, relationship struggles, or even health challenges.
And it's likely it's not your fault! 😳
It could be due to stressed emotional energy left behind by previous occupants who've moved out their physical baggage but left behind their "emotional" baggage. 🧳
It could be due to stressed earth energies which are lines of energy that broadcast through your home causing headaches, anxiety, insomnia and just overall discomfort. 🌎
Or it could even be due to negative effects of technology like from EMFs, Wi-Fi, and all the devices and electronics around your home. 📡
It is common practice to clear your home with sage or crystals which can definitely help but that's just a light dusting vs. a deep cleaning.
A Home Energy Clearing is like a white glove service for your home where I clear all 3 of the stressed energies and it lasts at least a year. 🎉🏡💫

And a bit more…
I live my life by following my HEART
H onor your past
E mbrace your journey
A ppreciate your present
R evel in your uniqueness
T rust the future & the unknown
I invite you to do the same! 💖
Certifications and Credentials

🏵 Certified Mastery Transformational Coach, Health Coach Institute
🏵 Certified Interior Designer, NCIDQ 25260
🎓 Masters in Interior Design, Boston Architectural College
🎓 BS in Marketing/Finance, New York University