Eliminating The Suffering
Bio
At the age of eight I knew I wanted to live by example that anything is possible. With epic, insurmountable odds I would not only survive but become happy, healthy, wealthy and live with purpose showing the way for others to follow.
With this path- I carved then paved for easier and faster transition for others. I speak on  many topics but the one I am currently focusing on is the One Day and Three Day Bootcamp For Smokers.
The mass population believes that quitting is so hard  people need drugs to help.  I am the founder of the BMP Method-   My work clearly shows the reasons why quitting can be difficult and how to eliminate that suffering. If you eliminate the suffering wouldn't one be more likely to quit?
Attend one of my Bootcamps -Use my Method to quit smoking. If you suffer I will give you back you money.
Awards and Affiliations
Trafford's Gold Seal Literacy Award as my book had a very positive book review-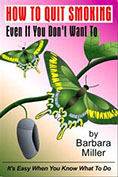 How to Quit Smoking Even If You Don't Want To
by Barbara Miller
Trafford Publishing

reviewed by Jacquelyn Gilchrist

"I said you could keep smoking. I didn't say…