Soul Sales Course with Lisa Dadd
July 20 @ 2:00 pm
|
Recurring Event
(See all)
One event on 15 June 2022 at 2:00 pm
One event on 20 July 2022 at 2:00 pm
One event on 17 August 2022 at 2:00 pm
One event on 21 September 2022 at 2:00 pm
One event on 19 October 2022 at 2:00 pm
One event on 16 November 2022 at 2:00 pm
One event on 21 December 2022 at 2:00 pm
One event on 18 January 2023 at 2:00 pm
One event on 15 February 2023 at 2:00 pm
One event on 15 March 2023 at 2:00 pm
One event on 19 April 2023 at 2:00 pm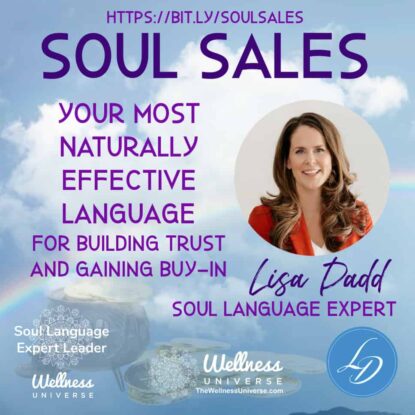 The Wellness Universe presents Soul Language Expert Lisa Dadd, Consultant & Soul Language Certified Sales Trainer guiding you through a 12-month program for heart-centered, business-minded wellness-preneurs.
 Join the Event Here: https://bit.ly/SoulSales👈
This donation-based flex 12 session course (1X per month) is supported by a pay-what-you-can structure.
Donate upon registration or during sessions as you experience the transformation you seek to live your best life. Free seats for those in need.
Connect with Lisa https://www.thewellnessuniverse.com/world-changers/lisadadd/
Live starting 5/18/22 1X per month, sessions will be recorded.
Soul Sales: Your Most Naturally Effective Language for Building Trust and Gaining Buy-In
Whether selling a product, a service, or an idea, we all need to gain buy-in at some point. We are most enrolling (i.e., successful, and effective) when we show up fully in our own energy. Beyond the basic concept of "be authentic", soul sales dives deeper into the effective language that differentiates what you have to offer. In this empowering, experiential series, you'll learn to translate your natural way of being in the context of sales conversations and business situations.
Paradigm Shift 5/18/22 – Reframing the Act of Selling and Introducing Soul-utions
This introductory session sets the framework for how we will navigate the relationship between sales and soul and creates space for expanding our perceptions of what is possible.
Anchors (part 1) 6/15/22– Radical Self-Awareness
Leveraging your own Soul Language, you'll be discovering the innate energy that drives your way of being and start to appreciate how it impacts your business conversations and sales situations.
Anchors (part 2) 7/20/22 – Radical Personal Buy-In
Before we can 'sell' anything to anyone else, we first have to buy-in to our inherent value. Beyond simply identifying features and benefits, we'll be digging deeper to uncover the heart and soul of why you do the work you do – and how that affects your ability to close sales.
Approach (part 1) 8/17/22 Sales as a Conversation, not a Presentation
Soulful selling requires powerfully intentional, and conscious conversation. In this session, we'll identify the 'conversation' you are having with prospects and practice the art of intention without attachment.
Approach (part 2) 9/21/22 – Don't BE a Salesperson, BE You.
Explore how your natural approach to day-to-day activities and various other business situations can be translated into more effective sales conversations, using your own Soul Language.
Approach (part 3) 10/19/22 – Sales Scenarios vs. Soul Language
Discover your biggest sales opportunities as we discuss various sales scenarios and lead generation strategies that align and accentuate your natural soul language.
Alignment (part 1) 11/16/22 – Buyer Spectrums and Sweet Spots
Discerning buyer attributes from a deeper, sales-centric rationale, and expand your sales conversations in powerfully effective, natural ways that feel good for you and your buyer.
Alignment (part 2) 12/21/22 – Want, Worth and Willing
Learn the true art of creating buy-in as you practice a soulful way of guiding, supporting and/or leading your prospects to the desires underneath the surface – the ones that make closing the sale effortless.
Alignment (part 3) 1/18/23 – Translating your Offer
Communicate your offer through your prospects' language (using your natural soul language approach).
Activators (part 1) 2/15/23 – Buyer Mindsets and Objection Handling
Recognize the energy, behaviors and language of your prospects and learn how to leverage your Soul Language in your response to questions and objections.
Activators (part 3) 3/15/23 – Creating Urgency and Closing with Confidence
Replace outdated sales scripts with your own customized sales framework; one that gives you ultimate freedom, flexibility and flow in your sales conversations.
Embodiment 4/19/23– Bringing it all Together
The final session will be an opportunity to bring all of the components together, and practice embodying the energy of a soulful salesperson.
Lisa will have supporting materials in handouts.
She will also have a group to stay connected in between live calls.
This is a flex course: Live sessions taking place that will be recorded to attend when your schedule permits.
Value: $1997
Cost: Donation / Pay-what-you-can
Additional Information
Sessions will be recorded and available for the public.
Participants are welcome to join live sessions with microphone and video enabled.
Participation and interaction is highly encouraged.
Examples of current sales language and materials can be helpful however you won't need for the first call.
Related Events